Aluminium windows HUECK
HUECK Lambda 77L/XL
thermally insulated, 77 mm profile depth - 17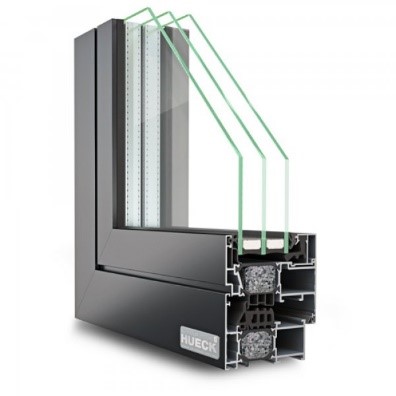 Construction:
High performance thermally insulated aluminium window
Three-chamber profiles, factory installed thermally insulated zone with ABP (general building supervisory authority test certificate)
Sash weight max. 160 kg visible, max. 170 kg concealed
Glass thickness between 22 mm and 67 mm
Elevation width
Narrow elevation width of fixed/sash frame combination from 90.5 mm
Profile depth
Fixed frame: 77 mm
Sash frame: 88 mm
Insulation zone
Factory installed, glass fibre-reinforced polyamide strips from 35 mm to max. 42 mm
Optional insulation inserts
Variable additional measures for different thermal insulation demands
Gaskets
Centre seal gasket: standard hollow chamber gasket or optional high performance centre seal gasket for special U value requirements, both with vulcanised corners or as a vulcanised frame
Glazing/rebate gaskets: narrow elevations on inside and outside, gaskets can be drawn in continuously
Additional insulation wedge at the glazing bead available if required
All gaskets coated with sliding polymer, suitable for self-cleaning glazing
Test results
Thermal insulation (EN 10 077 - 2): Uf = 1.0 – 2.2 W/(m²×K)
Water tightness (EN 12 208): up to E 900
Air permeability (EN 12 207): 4
Resistance to wind load (EN 12 210): up to C5
Burglar resistance (EN 1627 ff): up to RC 3
Sound insulation (EN ISO 717 - 1): up to Rw = 46 dB
HUECK Lambda WS 075
integrated sash, highly thermally insulated, 75 mm profile depth - 13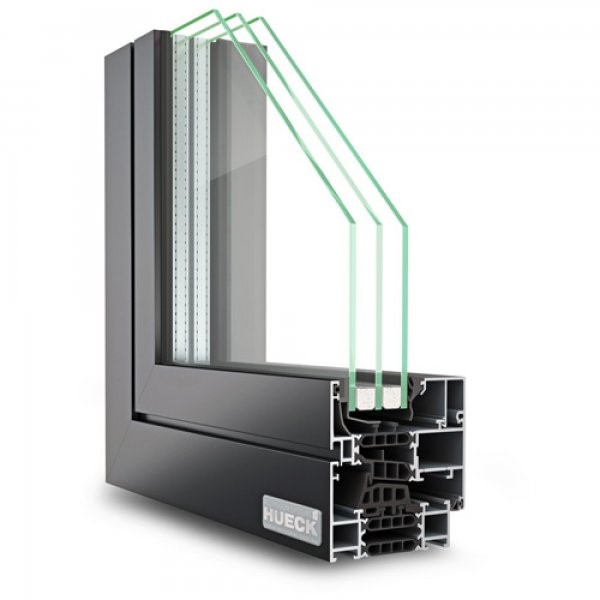 Product and processing advantages
Consistently straight without visible glazing bead joints or exposed fittings for maximum transparency
Stable, durable profile construction with a profile depth of 75 mm for windows opening in
Glass thicknesses between 12 and 46 mm in the fixed field or between 16 and 54 mm in the sash with standard gaskets, also for self-cleaning glazing
Highly thermally insulated aluminium window system according to passive house standards and optimized Lambdatherm insulating zone with insulating bridges made of innovative composites
Optimized production thanks to fewer accessories and use of identical parts
Compatible with the door series HUECK Lambda DS 075 and DS 075 FD
System data
Realisable window sizes (max. width / max. height): 1700 mm / 2500 mm
Thermal insulation: (EN 1077-2): Uf ≥ 0,89 - 2,5 W/m²K
Air permeability (EN 12207): class 4
Water tightness (EN 12208): class 9A
Resistance to wind load (12210): class C4/B4
Mechanical load (EN 13115): class 4
Burglar-resistance (EN 1627): RC 1 N - RC 2
HUECK Lambda WS 090
highly thermally insulated, 90 mm profile depth - 14.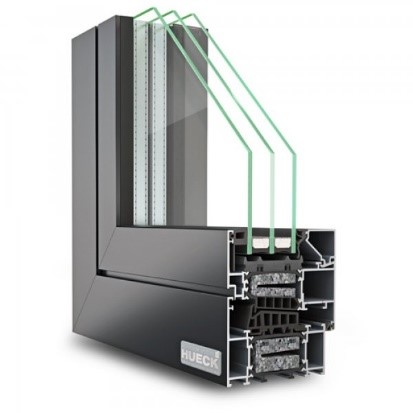 Product and processing advantages
Sturdy, long-lasting profile construction with 90 mm profile depth for inward opening windows
Glass thicknesses from 23-72 mm can be used – with standard gaskets for self-cleaning glazing as well
Extremely thermally insulated aluminium windows system on passive house level and optimised insulation zone with insulating bridges made of innovative compound materials
Optional use of concealed window hardware or established visible hardware
Different design for internal and external views – from gentle curves through to consistent straight lines
Production-optimised through few accessory items and use of the same parts
Compatible with HUECK Lambda DS 090 and DS 090 FD door series
System data
Realisable window sizes (max. width / max. height): 1600 mm / 2400 mm
Max. weight (standard hardware): 150 kg
Thermal insulation: Uf ab (standard elevation width): > 0.7 (W/(m²K)
Burglar-resistance (DIN EN 1627): RC1, RC2 (N) and RC3
Soundproofing (DIN EN 10140) up to Rw value: 49 db
Water tightness (DIN EN 12208): class 9A
Air permeability (DIN 12207): class 4
Resistance to wind load (DIN 12210): class C5/B5
Mechanical load (DIN EN 13115): class 4
Contact form

Online request