Aluminium facades ALUPROF
MB-TT50
The new, modern MB-TT50curtain wall system goes a step ahead in functionality and effectiveness compared to classic crossbar facades. It offers exceptional insulation and weather performance achieved by special 3 zone cascade drainage and ventilation of the glazing rebates. Its innovative construction enables to reasonably reduce the time required to manufacture and construct the complete curtain wall. It is designed to serve as the base system for security anti burglary and fire rated varieties.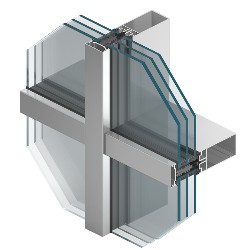 Features and benefits:
enhanced thermal insulation
glazing up to 56 mm
large selection of angle connections to enable greater design flexibility
high capacity mullion-transom connections (2,5 KN) coupled with wide range of glazing to allow the use of large size, heavy glazing panes
transom-transom constructions option
3 zone drainage and ventilation system reinforced with set of gaskets to provide protection against the most unfavorable weather conditions
selection of windows and doors available including roof vents, concealed vents and parallel windows
semi structural EFEKT glazing option
compliance with CE marking requirements
Performance:
Air Permeability: Class AE 1350Pa, EN 12153:2004; EN 12152:2004
Watertightness: Class RE 1800Pa, EN 12155:2004; EN 12154:2004
Thermal insulation (Uf): from 0,5 W/m2K
Fire resistance: EI 30 and EI 60
Burglar resistance: WK2 and WK3
MB-SR50N/HI/HI+
The system is designed for the construction and execution of flat, light-weight curtain walls of the suspended or filling type, roofs, skylights and other structures. The system is a modification of a very popular MB-SR50 façade system, meeting the demands of current trends in architecture.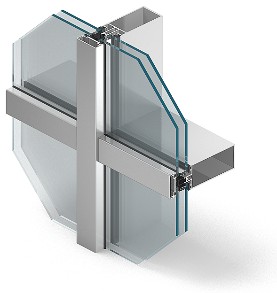 The shape of mullions and transoms allows for erecting aesthetic façades with visible narrow division lines, ensuring at the same time durability and strength of the structure. Rounded profiles of the radius of 2.5 mm, characteristic of the MB-SR50 system, have been replaced in the MB-SR50N system by "sharp edge". This change essentially influences the aesthetic aspect of the structure. The applied shape of profiles enables selection of mullion and transom profiles which flush with each other on the inside surface of the façade. When the structure is glazed, visually it forms a truss. It facilitates at the same time aesthetic and very accurate connection with other elements of the development - with internal walls and suspended ceilings.
Among characteristics of the MB-SR50N system is a wide choice of mullion profiles (between 65 mm and 325 mm) and transom profiles (between 5 mm and 189.5 mm) and modern solutions designed for accessories and connecting members. Such features allow for a wider range of loads which are being carried – an infill in a fixed module of the façade may weigh up to 450 kg. The MB-SR50N system gives considerable freedom while laying out façade fixing points. A wide glazing range allows for application of glazing of large dimensions and two-chamber insulating glazing units.
MB-SR50N EFEKT
Among aesthetic varieties of the MB-SR50N system, likewise in older mullion / transom curtain walls are the following versions: PL (so-called "horizontal and vertical line" where an emphasis is placed on either horizontal or vertical division) and a semi-structural façade of the EFEKT type. A particular attention should be drawn to the version featuring enhanced thermal insulation performance, i.e. MB-SR50N HI, in which special two-component insulators have been applied.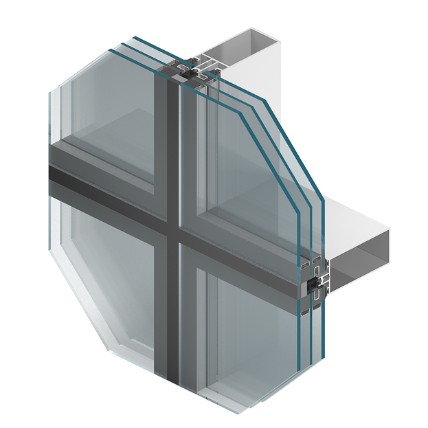 Contact form

Online request